Our Projects
For over 40 years, Mouat has performed design-build projects for some of the most elite companies in the world in the mineral processing, frac sand and foundry industries, with projects in the U.S., Mexico, Europe and Central Asia. The map below provides the location of these projects.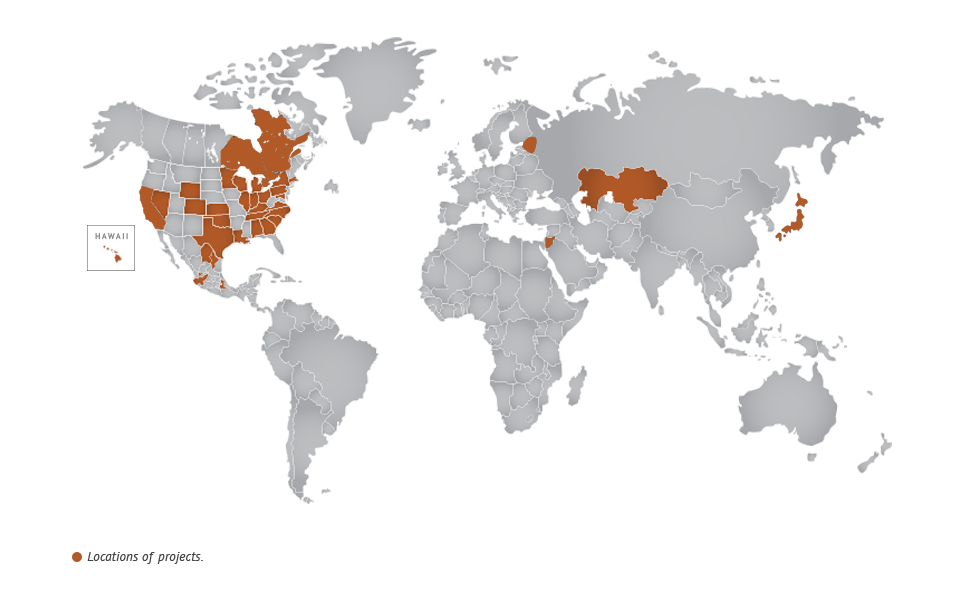 Over the years we have developed lasting relationships with our customers, and as a result over 65 percent of our business is repeat business. The bronze areas on the map above indicate customers for which we have had capital projects.
A partial list of customers includes the following companies below:
Most Recent:
---
CRS Proppants
EOG Resources*
Fairmount Minerals (2)
Global Chemicals Corp.
Halliburton (4)*
Preferred Sands
Silver & Baryte Minerals (2)*
Southern Precision Sands
*Multinational Company
Previously Completed Projects:
---
AFI
American Casting
Asama Coldwater Mfg
Automanufacturas
Burnham (3)
Caterpillar (3)*
Chrysler (3)*
Cifunsa
Citation (3)
EBAA Iron (4)
Emerson Electric (2)
Fansteel Wellman
Ford Motor Company (2)*
General Motors (2)*
Georgia Ductile (2)
Grede Foundries (5)
Grinnell (2)*
Honda Motor Company (2)*
Hormel
Intermet Corporation (6)
International Truck (2)*
Jahn Foundry (2)
John Deere (2)*
Navistar (2)*
Neenah Foundry (5)
ProezaGREDE
Rassini Frenos
Tisamatic
U.S. Foundry
U.S. Pipe & Foundry (2)
Wagner Castings
Westinghouse*